Video Link – Click to play the May 2020 Video SEO Newsletter. get more detail on all questions.
Top Client Questions Of The Month:
Thanks to all the clients and newcomers for these great questions. Watch the Video Newsletter above for more detailed answers. Here they are.
1. I don't have a big following but want to do a giveaway, should I wait?
– No! All it takes is one person to say, I'll take it. A giveaway is promotion. Waiting until you get a bigger following for a giveaway is a catch-22. Do it now! It will help grow your following.
2. Can you target a specific business address with Google ads?
– You can target within a 1 mile radius of an address and specific zip codes. To target a specific address is called Geo-fencing. The best use I have seen of this is in Snapchat where you can create stickers and actually mark points around your location to target. Facebook is just a 10 mile radius and Google a 1 mile radius.
3. How do I verify that a business is legitimate online? – Mike S
– Same kind of things that you would do locally. Check their online reviews, see their online profiles and if the reviews look legit as well. To do further digging you can check their BBB profile as well as with the secretary of state website to see if they are a registered business. Be advised, if a business sounds shady it probably is.
4. How do I get an easy share review link for my GMB location?
– Access this link directly from your Google My Business profile page and click on share review link from the "home" section.
5. Is it okay to have the same page in different pieces of your menu, if so do you have to have the same name?
– With the main nav menu, you really want to think what will best help your customers. The user experience is key. Often, being redundant is not a good idea. Try to focus your menu items
6. What should the proper mix be given we are retail of text images?
– Again, it is all about serving your customer. Good question, as Google often wants pages with more text but that is actually because they usually help answer questions people are asking. Watch the video for more on this. 
7. How long do people stay on YOUR site?
– I look at the sources in analytics that drive conversions and where most users are coming from versus overall bounce rate. My average bounce rate on channels I care about is 51.57%
8. Can users block certain ads from showing on their websites that use Google Adsense?
– Ad Sense allows you to limit certain content but mainly it is all selected by Google to your site when you opt into the program. Read this for more 
9. How are ads targeted on websites?
– Google uses a partner program called Ad Sense. 10.8 Million websites use it (ref) This allows Google to serve targeted ads online. Watch the video for more. See how ads are targeted here 
10. How are ads placed on websites? How can I win more ad auctions?
– Because the ad auction ranks advertisers based on their bids and Quality Score, it creates a win-win-win situation: it assigns the ad unit to the advertisers who value it the most; the winning ads are therefore from the advertisers who are willing to pay the most; and the Quality Score-based approach ensures good user experience. Learn more here
Watch the SEO Video Above For more detailed answers
Click below to support local Columbus artists & musicians and donate. As a former local musician myself, many of my friends are impacted during time time. If you have not, support them below.
SEO News and Updates for this month
"You can't stop stupid" – Jessica Bigham (my wife)
KOW ABUNDANT WINS SPECIAL SEO AWARDS
Kow Abundant wins top honors, winner of 2 major SEO awards for 2020 from Expertise.com named a top SEO agency in Columbus. Also, winner of SEOblog.com top SEO agency. Read the full article here
Google Search Update:
Google Search Ranking Update Flutters April 28th & 29th via Search Engine Roundtable
The 17 Best Free SEO Tools You Should Use in 2020 via SEMrush.com
GOOGLE ADS:
Google recently sent out an update about Google ad credits coming to small business that qualify. SMBs who have advertised most all of 2019 will be eligible for Google ad credits. My personal reps told me that the info on credits will be released in Q2, that means between now and June 30th. Google pledged $340 million in ad credits coming to small business and over $800 million in total Google product credits to SMBs coming in 2020.
Stay tuned for more detail and we will let our clients know personally that quality as we are watching this closely. Google Ad Credits update April 20th
Big news for Google Shopping!
Search Engine Land: In major shift, Google Shopping opens up to free product listings. Watch the video for more on this
Google Ads to require verification
Verifications now pushed forward, Google partners like Kow Abundant will be able to push through with little or less verification on new accounts.
Google earnings affected by global health situation, expects 1-8% growth overall still. Read more here
Click below to provide local meals to those in need. The Refectory is one of the best restaurants in Columbus that my wife and I visit on special occasions and is sponsoring below.
This Month In Memes
Remember Norton Antivirus?
Here's the story, of a zoom family meeting.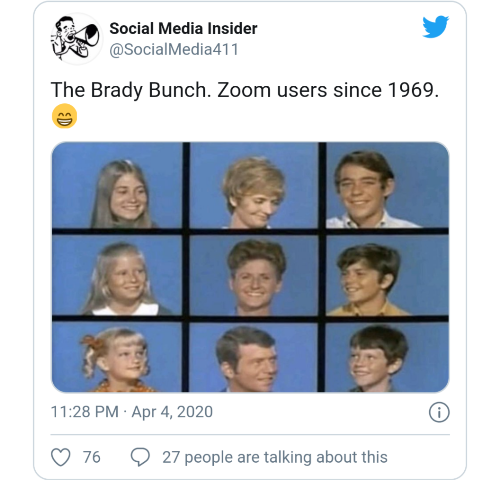 Please listen to this advice.
What a monster!
Don't Forget About Our Ebook!
Think like a marketer ebook – imagine all the great things you can do once you empower yourself and your business to develop a marketing strategy that beats the competition. Check out our ebook now.