Shifts in Ai, Poor Tech Support, & Old Analytics Sunsetting in July 2023. We see big industry shifts and how to react to them.
There is nothing permanent except change said the Greek Philosopher, Heraclitus. This is true for digital ads at this time. There are times when big shifts happen and for many of us, now is such a time. It all started when Apple announced in 2019, "What happens on your iPhone stays on your iPhone". Coupled with changes resulting from GDPR, digital ad companies, and search engines have scrambled to find new ways to track and target users in a privacy-conscious way and still have not caught up. GA4, the new Google Analytics, was created in large part due to Apple's industry-wide privacy-based changes.
Google's full transition to this new analytics is fast approaching, as of July 1st, 2023 UA3 (the old analytics) will no longer be supported. 
Kow Abundant has been shouting about the GA4 change since March 10, 2021. Since that time, we have also transitioned to GA4 and moved client accounts to it including conversion tracking. We even noted the coming storm of all the changes we are seeing now back in November of 2022. Even going as far to announce in April 2022 that all our client accounts would be migrated to GA4. 
There is no doubt that many agencies who didn't prepare for this will be in heaps of trouble over the next few months. We also noted the issues with Ai and Google Ads and used only minimal Ai allowances in our client accounts. Due to this, we have not seen as many issues as other agencies report. 
Ai is a promising tool that's turned into a buzzword nowadays. Companies are rushing the Ai souffle to our tables that look pretty outside but when cut into are served half-baked. Many business owners are getting frustrated with poor support from their ad platforms if they havent already due in part, to sweeping company-wide Ai updates with Big Tech.  
At Kow Abundant, we do our best to take the worry out of dealing with those issues but more recently, we are finding it more difficult to get support too. That's because more companies are implementing Ai support solutions and the rollout is a hot mess. 
"It's like the old phone call auto-attendant on steroids when contacting these companies now."
As these changes occur, we recommend clients look at their current budgets with ad spend and move toward what's working; we actually always say this! Now so, more than ever, as Ai and tech is shifting, we look toward where the attention is and what is working. 
Right now, we see the biggest ROI happening in SEO, this includes website improvements and updates and brand awareness plays like more video. Social platforms are currently great plays when done right; create engaging real content that helps people make informed decisions. If you want to move in that direction, contact us at Kow Abundant, we want to help.
We are hiring, careers in content creation, video, and marketing, go to Kowabundant.com/JOBS to apply.
---
If you or someone you knows has the marketing chops we are looking for then inquire on our website at kowabundant.com/jobs

Kow Abundant wins top honors, winner of 3 major SEO awards. Local Excellence award winner from Upcity.com. Expertise.com named a top SEO agency in Columbus. Also, winner of SocialAppsHQ top 3 Facebook Marketing agencies.
---
Top Client Questions Of The Month:
Thanks to all the clients and newcomers for these great questions. Watch the Video Newsletter below for more detailed answers. Here they are.
1. Would exchanging links with another relevant website be beneficial for me? – It depends. You would want to check a few things first.
Is the sharing site related to yours, does a link make sense?
Is the site authoritative? Would sharing a link be beneficially based on first glance?
Check the authority score online you can use a free tool here to do that https://ahrefs.com/website-authority-checker
Ask an agency to help if possible.
If everything lines up then go ahead!
2. How can we make our ads more targeted to an older age group?
– If you can age target then do that but many business sectors cant do that due to HOA lawsuits and regulations in the industry. So if you can't age target and zip code target then Know your demo.
Know what they like, who they are, what they eat, what excites and interests them. Use images, keywords, and the right ad copy.
When people see a display ad they are reading an article or scrolling and seeing it quickly, so make it easy for their brain to get what they see in 2 seconds.
For older demo, show your customer as their right age, dont add in young people or whatever, make it obvious that what they see is what they should see.
Show the product, show the person, and reinforce it with text of what it is.
3. Can a quote be used as an advertisement?
– We are not lawyers so we cant say, please contact a lawyer on this to get the best answer.
– Quotes made before 1923 are public domain and can be used in advertising.
– Quotes with permission can be used in advertising.
4. Is targeting by zip code accurate in Google Ads
– Yes and no, See https://www.reddit.com/r/PPC/comments/vab9gd/accuracy_of_google_ads_geotargeting/ 
also see how zip code targeting works and how it does not reach all customers, a multi-location approach is best.
– It depends on where you are you can actually see how Google triangulates your locations. This can be with radius targeting using GPS or cell phone signals, your IP address, or based on searches (Google prefers first two methods).
– You can actually see if you type in Google "Where am I now" on your PC or laptop the result will often be pretty inaccurate but usually within a few miles of where you are. Wheras if you open Google Maps on your cell phone it often nails exactly where you are due to GPS.
– Google uses various ways to track your location so it depends how accurate it is based on the above.
5. How do you calculate monthly budget in Google Ads?
Check this video for how Google calculates ad spend and budgets https://support.google.com/google-ads/answer/6385083?hl=en
There are various ways to see ad spend such as from the Billing section. You can also calculate it by going to All campaigns and then finding your daily spend of campaigns, finding all of them added up then multiplying by 30 to get an idea of monthly spend.
6. How are LSA's billed? (Google Local Service Ads Billed)
Many businesses are interested in getting that top spot on Google known previously as Google Guaranteed now Local Services Ads. They are those ads above everything else and you are charged by the lead. Most of our clients are essentially charged per lead anyways now as they pay for conversions that we track but flavor of the month so let's talk about it. 

A current full list of supported businesses can be found here, see if your business is in one of these categories before reading on. 

LSA's billing info from Google can be found here

Google has certain things they agree are considered "valid leads"
We are hiring, go to Kowabundant.com/hiring to apply
If you have any questions or would like this kind of help please contact us at Kowabundant.com/contact
Watch the full video below
---
SEO NEWS
Google finished its Reviews update, this searches reviews to see if relevant and promotes certain content as ranking factor for your site; makes reviews even more important! 
Google reduces the presence of video thumbnails in Search
Google to show UA3 data for an additional 1 year but will stop all reporting Jul 1, 2023
PRO TIP
Google has identified what are all their crawler bots that look at your website. Take a look at them here from Search Engine Roundtable.
DIGITAL ADS NEWS
Microsoft and Roku partner to streamline ad buying
---
This month's charity to support is
LSS Faith Mission in Columbus Ohio
Each month we sponsor a charity and invite you to join us in donating. This month we are donating to RIP Medical Debt Ohio. They provide medical debt relief to struggling families that meet low income requirements. For every $1 donated $100 of medical is forgiven. They act as a debt collector buying debt for cheap (like they do) but instead they just forgive it, no calls just forgiven debt changing lives.
This Month In Memes
Ai Support is causing issues, Google cutbacks on staff results in long delays.

Google, Bing, & Facebook all eyeing new Ai Chat bots for support to replace human support call centers. So far it isn't working out as Ai has too much drama.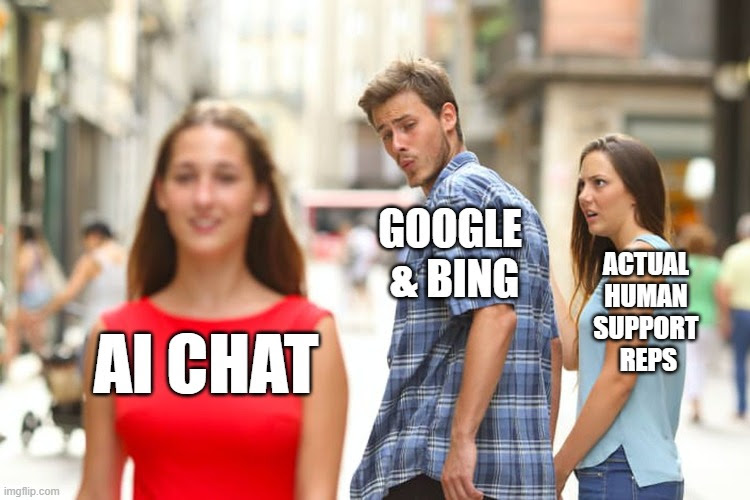 Customers having been asking more about Google Local Service ads or Google Guaranteed. We have a full guide coming out Wednesday, May 3rd all about it.

---
The Thermostat Podcast
Listen to the Thermostat Podcast with all new episodes on work culture and leadership in 2023.
---
Thanks for reading! Please comment below with any questions.
Still reading this huh? Maybe you would be interested in some of these articles.
What is the best word count for an SEO meta description?
Google Ads or SEO, Which is better?
We made one of the best marketing ebooks known to modern humans, ready to kickstart your marketing?